The Franček language portal launches
Tuesday, 14 September saw the official launch of Franček, a new Slovenian language portal for youngsters, which took place in the Atrium of the Research Centre of the Slovenian Academy of Sciences and Arts. The portal was designed by researchers of the Fran Ramovš Institute of the Slovenian Language within the scope of the project Franček web portal, Language Counselling Site for Teachers of Slovenian and the School Dictionary of Slovenian (2017–2021), co-funded by the Republic of Slovenia and the European Social Fund.
The purpose of Franček is to present elementary- and secondary-school students with language data in a clear and understandable form. The user can choose between three types of presentation, each adapted to a particular age group, i.e. 1st to 5th grade pupils, 6th to 9th grade pupils, and secondary school students. The data is divided into three so-called modules that are introduced by questions that the learner might direct toward a teacher or their parents, e.g. "What does this word mean?" [Kaj pomeni ta beseda?], or "How do I pronounce this word?" [Kako izgovorim to besedo?]. The modules are depicted in illustrations by renowned Slovene illustrator, Jaka Vukotič.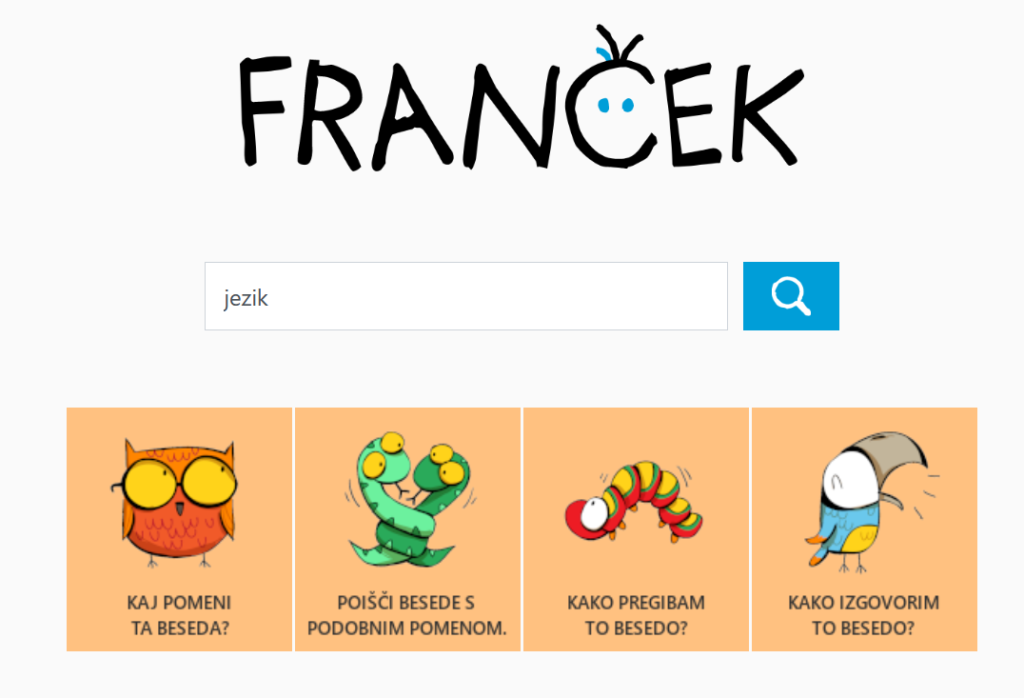 The youngest users are presented with definitions and word meanings, accompanied by graphic material, and their synonyms; they can get to know the word inflections, and listen to how they are pronounced. Almost all the words included in Franček include a synthesized recording of their pronunciations produced by Franček's robots, Renato and Nadja. Approximately 3600 words also include a recording by a native Slovenian speaker. The meanings of two thousand basic vocabulary words have been described in the School Dictionary of the Slovenian Language [Šolski slovar slovenskega jezika], the first scientifically based school dictionary of Slovenian, integrated into the portal. In the second and third age groups, the four modules are joined by four more. These provide information on how the words occur in phrases, their use in dialects, their origins, and their historical usage.


In addition, the portal also contains the Where is what in the grammar book? subpage [Kje je kaj v slovnici?], where a clear presentation of grammatical content is available, extrapolated from two grammar texts, Kratkoslovnica and Slovnica na kvadrat by author, Kozma Ahačič, aimed at elementary-school pupils and secondary-school students, respectively. The grammar content from each can be accessed via links next to grammatical summaries. Additionally, the Language Counselling service is available for teachers to post questions for researchers of the Institute, as well as a tool for automated generation of worksheets, called Črkozmed.
Franček is accompanied by Besedoboj, a game for Android and iOS smart devices. Players can compete with well-known Slovenian authors such as France Prešeren, Ivan Cankar, Valentin Vodnik, Lili Novy, Zofka Kveder, and Srečko Kosovel.
The portal was presented by the head of the institute dr. Kozma Ahačič, dr. Andrej Perdih, dr. Janoš Ježovnik, dr. Nina Ledinek, dr. Špela Petric Žižić and dr. Nataša Jakop with moderation by dr. Boris Kern. A recording of the event is available on YouTube.